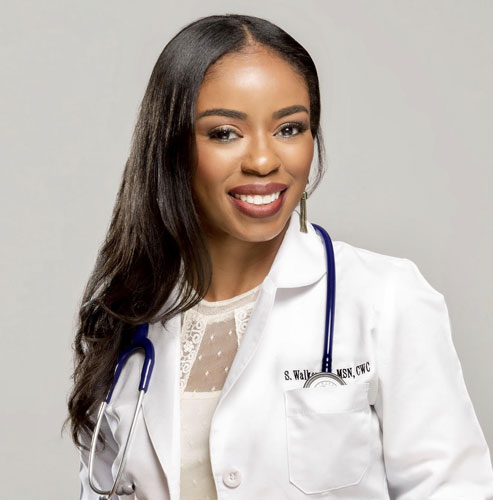 Santisha Walker
Santisha has a gift of empowering others to achieve their life goals, offering practical guidance and reliable resources to assist in the success of their endeavors. After graduating from The University of North Carolina at Greensboro in 2005 with a Bachelor of Science in Business Administration-Marketing and working in the Insurance Industry for 5 years, Santisha yearned to have a more profound impact on the health and personal lives of others, which led her to pursue her previous desire of becoming a nurse. She graduated with an Associate Degree in Nursing from Wake Technical Community College in 2013. Upon graduating, Santisha worked as a cardiac nurse at WakeMed Hospital in Raleigh, North Carolina and then transitioned into the neurology specialty at Raleigh Neurology Associates. She also has experience in rehabilitation and skilled nursing specialties as a contract nurse. After completing her Master of Science in Nursing Administration from Gardner-Webb University in 2017, Santisha accepted a position as Director of Patient Care Services for a home healthcare agency in Raleigh, NC. Currently, Santisha serves as Nurse Clinical Supervisor for an upscale Assisted Living Facility in Durham, NC.
Obtaining degrees in Business and Nursing, as well as a desire to witness patients and communities live an authentic well life, Santisha was inspired in 2016 to start Walker Group Health & Wellness, a boutique consulting company providing tailored health & wellness education for organizations, families and communities. Working with her team of passionate, licensed, and experienced health & wellness professionals, Santisha empowers individuals who make up these groups to achieve true total wellness. Acquiring her Certification in Wellness Coaching positioned her to genuinely operate in the wellness arena as a healthcare professional. Santisha also has a heart for mental health and in 2015 partnered with her mother and sister to serve as Co-Founder of Temple Vitality Foundation (TVF), a 501(c)(3) organization whose mission is to bring awareness to mental illness and help transition this population to a state of independence through healthy and balanced living. 
As a nurse operating in the entrepreneurial arena, Santisha serves as an inspiration and brand strategist for nurses desiring to understand the business world and build a thriving business and brand. Coining herself as The Nurse Brandnista, she uses her experiences to catapult nurses into living out their heart's desires while simultaneously making their own mark within the nursing profession. 
Santisha's enthusiasm for others to reach their goals and live a thriving life has led to speaking opportunities, television and radio appearances, national and international podcast appearances, and publication features. Santisha believes in giving back and serves as an author of four inspirational books for young girls, women entrepreneurs and nurses; as well as Health Columnist for Spectacular Magazine's column, "Serving Beyond". Santisha also impacted women's health in 2018 as a Health & Wellness Instructor for Fierce Academy Online, a continuing education platform offering high-quality instruction and training for women to become fierce in various areas, such as business, relationships, health, finances and personal development.
January 2019, Santisha partnered with her sisters, Trinetta Burrell and Tiffany Hatton, to launch Tribe Talk Radio Show, a platform where women are empowered to link arms with other women traveling their same path. Tribe Talk's mission is to connect with women through transparency and create dialogue amongst the leader women, entrepreneurial woman and women in the community. Airing weekly on YouTube Live and Spreaker, Tribe Talk Radio Show has empowered women from all walks of life to spread their wings and soar.
When Santisha is not educating on health & wellness, inspiring nurses as an entrepreneur, or empowering women, she enjoys spending quality time with her best friend and husband of 11 years, traveling, meeting new people, connecting with close friends and relaxing with her large family. Santisha also understands the importance of self-care and filling her own wellness tank; therefore, she adores spending time in prayer, meditation listening to calming music, and taking in personal moments.