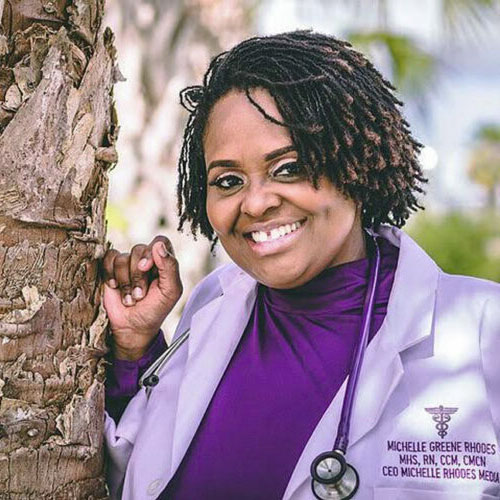 Michelle Greene-Rhodes
Michelle Greene Rhodes, MHS, RN, CCM, CMCN
Greene Rhodes Nurse Consulting Firm
a division of
Michelle Rhodes Media LLC
Healthcare Education and Case Management Consulting
Inspired by her passion for mentoring and coaching , she assists individuals and groups who struggle with goal achievement, leadership and obtaining the care that they need.
She has gone to enjoy a 20+ year career in Nursing, Authored four (4) books, and now speaks on various Health care topics that effect her community.
A former  Population Health Manager with a Managed Care Organization, Michelle is described as extremely detailed, organized and creative this Nurse has become the "go-to" source when it is time to construct a health-related programs and approaches that will solve problems.  She is a passionate and highly engaged workshop leader.  Coach Michelle is a Wellcoaches trained Coach and VA Certified Mentor, Certified Managed Care Nurse and Certified Case Manager.
Her Nurse Consulting firm displays leadership and enjoys helping  others meet their goals, and obtain the care that they need.
All Sessions By Michelle Greene-Rhodes
Adding Coaching to Your Business
February 28, 2020
10:05am - 10:45am
TBD